Indoor RC Microflight
Moderated by NIRAC
02-19-2008, 03:56 PM
Optimus Crawl

Join Date: 08-22-2005

Location: nowhere-

Posts: 7,272

Thanks: 0

Thanked 0 Times in 0 Posts
Blade CX- L.A. style
---
new "bought" bodies are all the rage in Cali,...so why not here.
I recently picked up the new Bell Jetranger body set for the Blade CX/CX2, and i must say, it takes the look of the blade into a whole new realm. The beauty is its scale realism, licensed by Bell, and following exacting proportions. The include color coded skids and decal sheet are a nice touch too. it installs very easy too, as you need only remove the balance bar, and both sets of blades. I noticed that the rear of the fuselage has no provisions for the battery to slide out, but the front does. for me, the velcro stop on my battery holder was already gone, so i simply slid it in from the front.
A small rear prop is also included, and it spins freely, and when the blades spool up, the air moves the rear tail rotor too, adding to the realism. All in all, very nice package indeed to make your CX/CX2 to look a bit more "real Heli"
Ron~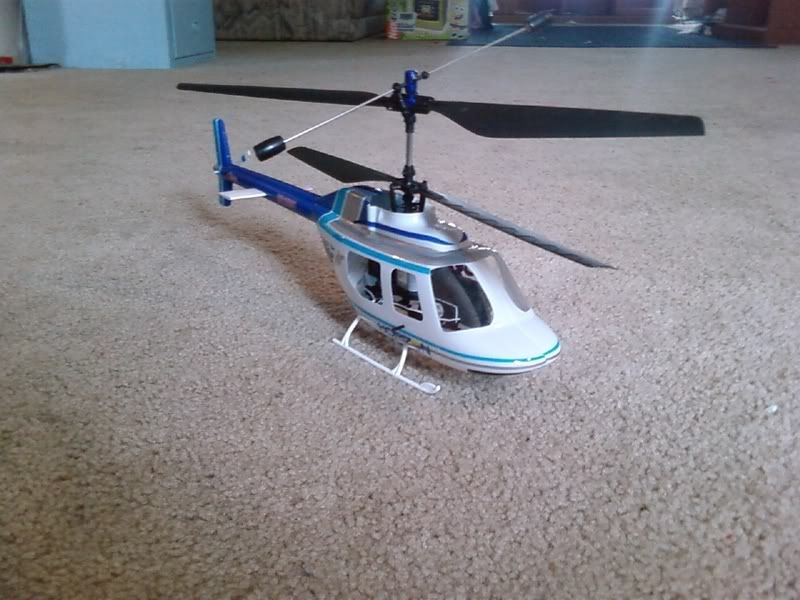 05-12-2008, 02:16 AM
Member

Join Date: 01-14-2002

Location: Clarksburg, West Virginia

Posts: 37

Thanks: 0

Thanked 0 Times in 0 Posts
I bought one too...
---
Hey z-man...

I love the new Jet Ranger bodies. I just bought one on Saturday, and installed it today. I got the other style, the red and blue one. I haven't even flown it yet. I can't wait to see how it looks flying!!

Have noticed if it drains your battery quicker? Maybe I can post a pic of mine soon.
Posting Rules

You may not post new threads

You may not post replies

You may not post attachments

You may not edit your posts

---

HTML code is Off

---
All times are GMT -4. The time now is
03:30 PM
.
Powered by vBulletin® Version 3.8.7
Copyright ©2000 - 2013, vBulletin Solutions, Inc.