11-23-2011, 09:34 AM
Certifiable RC Addict

Join Date: 10-12-2007

Location: Minnesota

Posts: 1,002

Thanks: 15

Thanked 21 Times in 18 Posts
Tire & Wheel Water Removal
---
Lately manufacturers have been making more and more vehicles "waterproof". Summer months were great for running your RC through the water. With the approach of winter, more people will be out playing in the snow with their vehicles. Most of the vehicle is capable of getting wet without harm. However, the tires don't always fare as well as the rest of the vehicle. Water goes into the tires and doesn't have anywhere to get out. After working on customers vehicles time and time again with the same problem, I've found a good method to fix it.
I recently got an Emaxx that had loose pillowballs in the knuckles and shaky driving caused by the tires being filled with water. The following steps were done to remove the existing water and prevent it from being a problem again.
1) Take a body reamer and poke (twisting a couple times) a hole through the center of the tread as shown, working your way around the tire in 1 inch increments. I used a three tread skipping method to keep track of where to place the puncture. The idea is to make a small hole, not a visible gash.
2) Find a mandrel that has a hex and screw configuration (I used one from a buffing wheel) that is about the size of the wheel nut and close to the size of the axle shaft so that it centers better on the rim.
3) Tighten that onto the rim and insert the mandrel into a corded drill (not cordless because it won't go fast enough). Make sure you plug into a GFIC outlet so that if the drill gets wet, it won't electrically shock you.
4) Put the rim and drill down into a trash can or barrel of some sort so that you don't get sprayed. Slowly start to rotate the wheel and increase the speed as much as you're comfortable based on how unbalanced the tire is. You will see a mist coming out of the trash can and the wheel will start to spin smoother. Slow the drill down and repeat the cycle and hold at full throttle for 15 seconds.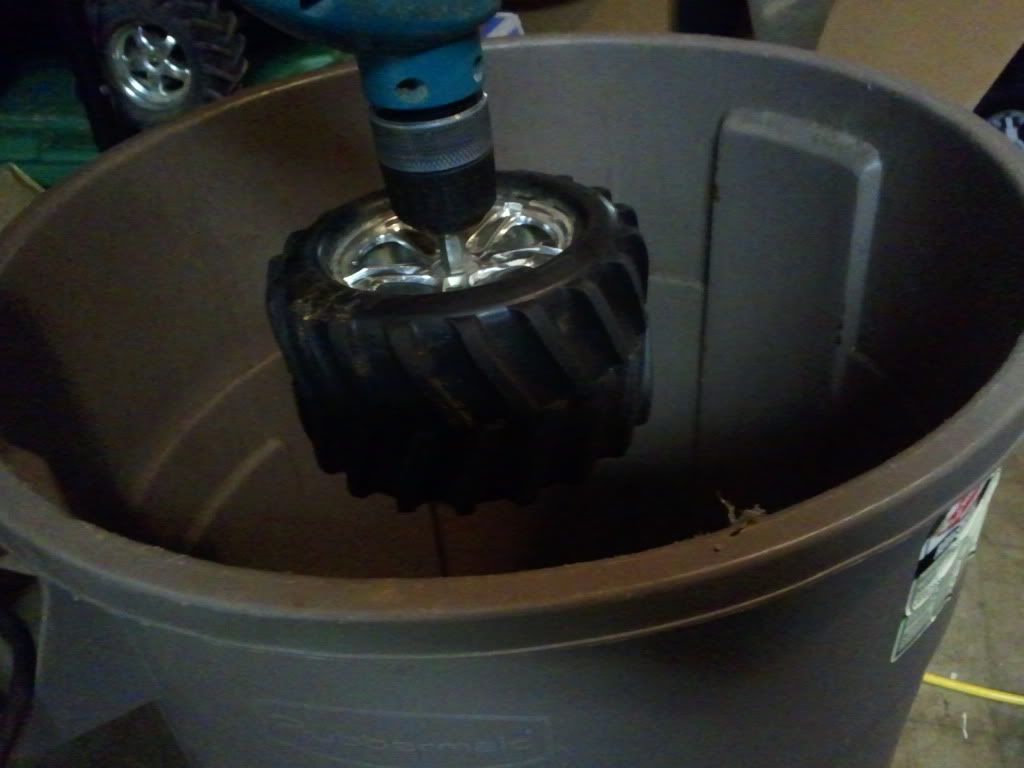 5) Replace the wheel on the vehicle and repeat for the other three. Don't worry if you don't feel that you got the water all the way out of the tires. Over time, the wheels will remove the remaining water while you run and prevent it from happening again.
I measured one stock Traxxas Talon wheel before I started and came up with 12.6 oz. After the process, I ended up with 11.2 oz. If you think about the motors, speed control, suspension and other affected parts, it only makes sense to do this. Any way you look at it, you will save $50 for a little effort.
The Following User Says Thank You to andystoybox For This Useful Post:
Sponsored Links
11-24-2011, 06:37 PM
Member

Join Date: 11-12-2002

Location: middletown,ny

Posts: 336

Thanks: 2

Thanked 0 Times in 0 Posts
I do the same thing.

Before I mount my race tires, I use a leather punch and put the holes in the tire. After a day of racing and cleaning my tires, I use a dremel on a very low speed to spin the water out of the tires.

I don't ever dunk my tires underwater when I clean them. Even though, water makes it way inside the tires.

I balance my tires to make them run true and noticed one day that a set was way off balance. This was the 1st time that I realized how much water was trapped inside.
__________________
Pro-Line Racing team driver.
11-24-2011, 07:16 PM
Administrator

Join Date: 02-07-2011

Location: MN

Posts: 5,964

Thanks: 12

Thanked 13 Times in 11 Posts
I take my tires put them in a paper bag then inside a giant ziplock bag fill the bag with rock water softner salt and seal it. All traces of water are gone within 24 hours.

Do not skip the paper bag part as the salt can eat away some types of rubber!
11-25-2011, 03:28 PM
Senior Member

Join Date: 05-31-2011

Location: where it all goes down

Posts: 692

Thanks: 0

Thanked 42 Times in 39 Posts
MT tires must be built stronger than ST tires. cause i tried this once. ended up ripping the tire open.

has anyone tried scotch guarding the foams? i had a friend say he was going to try it, but i don't think he ever did. just kind of wondering... the concept is intriguing
__________________
the ritalin made me do it!
11-28-2011, 10:01 PM
3.14159265358979323846264

Join Date: 08-19-2002

Location: Wichita, ks

Posts: 10,452

Thanks: 102

Thanked 79 Times in 77 Posts
I have always just drilled holes in the tires and gone out to drive the car with the water still in the tires. Makes a sweet spray.

Be careful with the dremel about not spinning too fast. 5000rpm is hauling butt for a tire and the modern dremels will have 35,000 usually available. The cheap ones are 15,000 on low which is over 100mph wheel speed on a small 2wd buggy tire, and 350+mph on a Baja tire (i assume baja tires are 8" in diameter)... lol


-Eric
---
Last edited by rccardude04; 11-28-2011 at

10:08 PM

.
12-03-2011, 12:01 AM
Member

Join Date: 12-02-2011

Location: Killeen (Fort Hood) Texas

Posts: 61

Thanks: 0

Thanked 1 Time in 1 Post
i haven't gotten my e-revo wet yet....im affraid to lol.
01-30-2012, 11:03 PM
Member

Join Date: 05-19-2011

Location: Southern oregon

Posts: 84

Thanks: 1

Thanked 3 Times in 3 Posts
I will have to remember this trick.
Posting Rules

You may not post new threads

You may not post replies

You may not post attachments

You may not edit your posts

---

HTML code is Off

---
All times are GMT -4. The time now is
07:21 AM
.
Powered by vBulletin® Version 3.8.7
Copyright ©2000 - 2013, vBulletin Solutions, Inc.
Designed by:
vBSkinworks